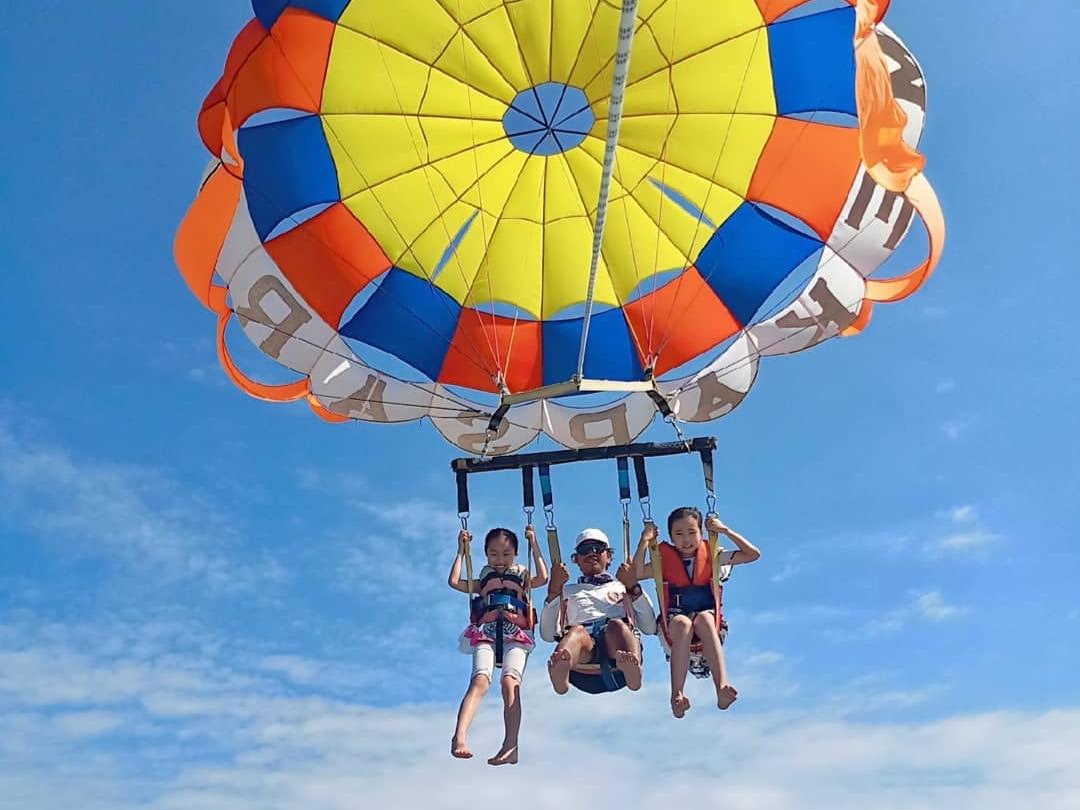 Bali Tandem Parasailing is a parachuting activities where allow you fly together with your half/Family. An Experience flying together with your half or kid at the same time in the sky. While witnessing Bird eye view of Nusa Dua Beach from the sky at the same time.
Jump To: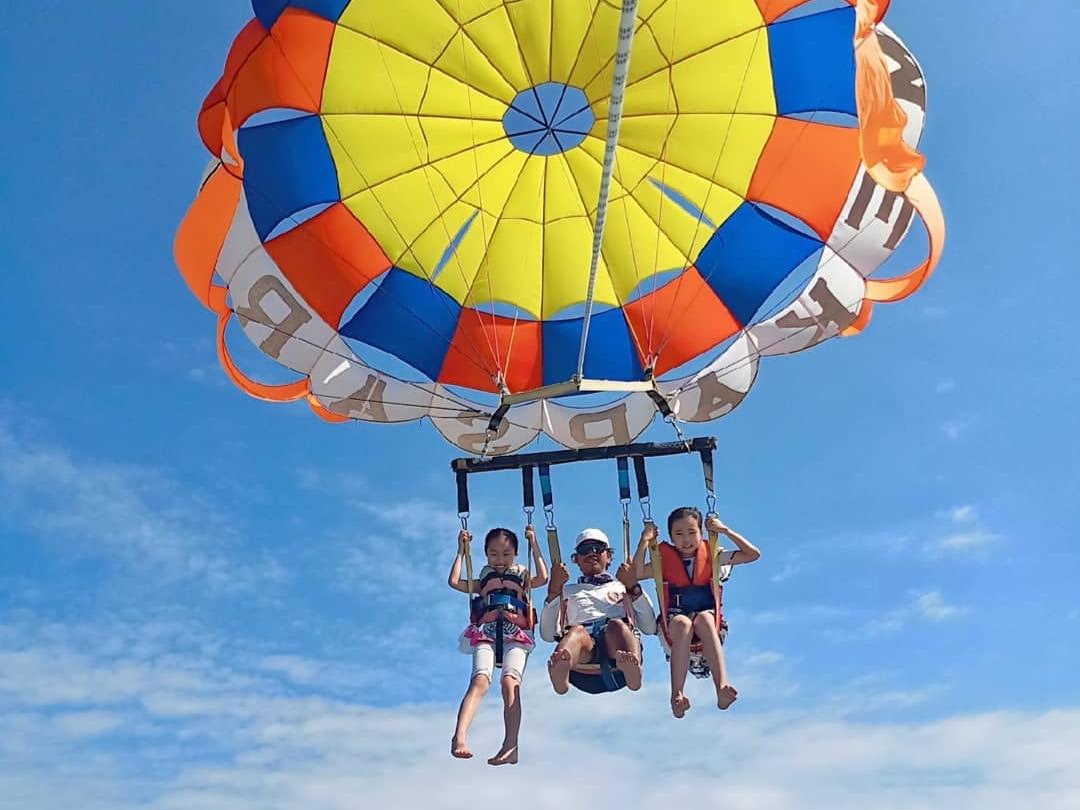 Beside of Tandem Paragliding, Where you fly with pilot, Parasailing let you fly together at the same time. Parasailing is one of the most popular water sport activities in Bali. No advance skill needed to join this activities, It is hands free and Family friendly.
Tandem Parasailing or Paragliding, What the difference?
Tandem Parasailing is parachuting activities in Bali, A part of water sport activities in Nusa Dua beach. Using Special boat with hydraulic System attached to the parachute while the passenger is connected to a parachute with a harness.
Tandem Paragliding start with Foot launched activities with fabric wings/Glider. During the operation, Paragliding pilot fly freely without any engine/Motor. It using the natural wind conditions. It will allow paragliding control the movement just like a driving.
Tandem Parasailing Bali can load maximum 3 people at the same time, as long as the accumulative weight of passenger not exceed 200 KG in total, while Tandem Paragliding must fly with pilot. Means there will be 1 pilot and 1 passenger during the flight.
Parasailing ride can not manage the acceleration, fully controlled by speed boat movement, But Paragliding pilot can control and do manuver like swinging, Spiral movement or just smooth ridding.
Pros and cons
Parasailing can fly together with your half/Family (3 People) at same Time. Paragliding flight must fly with pilot
Parasailing focused more to give you bird eye view of the beach with smooth ridding, Paragliding give you more experience, Adrenaline rushing and adventurous with beach, cliff and ocean view.
Parasailing flight duration 5-6 minutes, Paragliding 15 minutes, Length of flight option available
Price and Tickets
To Book online with easy and quick booking with instant confirmation, You can book via this site, We create a water sport package including Parasailing with 3 different Activities. It comes with Sea walking, Flying fish and rolling doughnut.
Tandem Parasailing Map Location
Tandem Parasailing you can do at the northern side of Nusa Dua Beach, It is located in Tanjung Benoa Village. The only place for water sport activities in Bali. There will be many Boats, Jet ski operated by local operator.
It is easy access from any major tourist center like Kuta, Seminyak, Legian, Nusa Dua or Uluwatu. Pick up and return service is provided by the company for water sport package booking.
Frequently Asked Question
Where is the Best water sport activities in Bali
Tanjung benoa beach is the only best place for playing water sports
What is the best water sport package to do in Bali?