Looking for fun things to do in Bali? Play on the Beach with water sports activities at Nusa Dua in the south of Bali may become things to consider. From Tandem Parasailing, Sea Walker and Fly boarding is a few of the Best Water sports activities you can chose to to at Nusa Dua Bali. Here You are All the available Bali water sport activities
Contents:
Bali Parasailing Tour, The most popular water sport at Nusa Dua
Tandem Parasailing at Nusa Dua Beach in Bali is the most interesting water sports activities you may consider to do. Parasailing or para-kiting is an adventure activities where will allow you to fly above the sea, Being started from the boat with special designed hydraulic system, This kind of activities can be don up to 3 people at the same time. As long as the accumulative weight of the passenger is not more than 200 kg in total.
This activities is easy to to and totally hands free, You may bring your own action camera and enjoy the entire 5-6 Minutes flying high with your partner or kids. Exploring the sea from 50-60 meter high with Blue ocean view.
Family Friendly water sports Activities at Nusa Dua Bali with Banana Boat ride
If you want to get a challenging activities with your kids, Banana Boat ride is the best option for water sports activities in Bali. The huge Banana shaped inflatable rubber boat ride, Pulled with speedy boat exploring around the beach of Nusa Dua. Available from kid above 5 years old, The boat will ride away to the middle of the sea for about 15 minutes fun ride.
Go Fast with Jet ski ride at Nusa Dua Beach Bali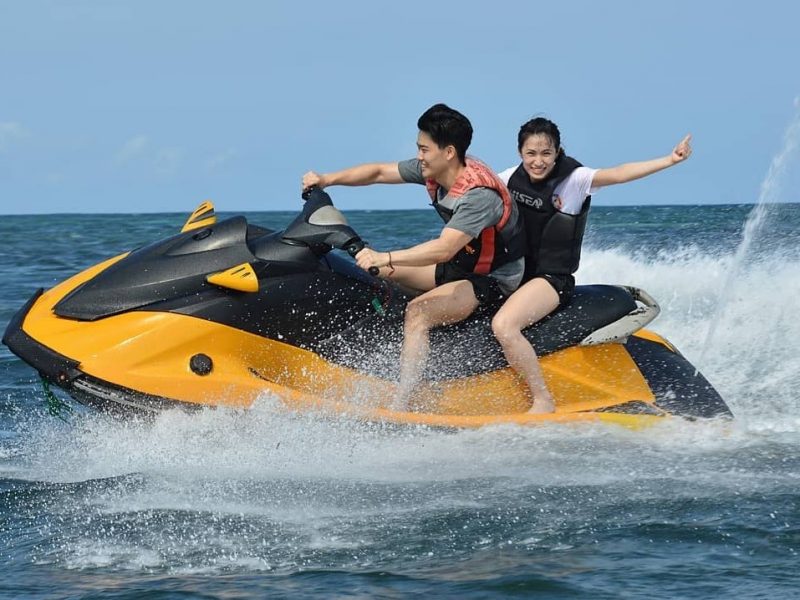 Ridding A jet ski or water scooter is letting you explore the sea at Nusa dua, You can ride the Jet ski as fast as you want and doing any Maneuver around the Beach. Test your adrenaline rushing with 760 CC powered Jet ski. The activities last for 15 Minutes and available for Kid (Accompanied by their parent or Instructor)
Flying Fish, The most challenging water sports activities at Nusa Dua Bali
Flying Fish is Bali's most challenging and adventurous water sport activities at Nusa Dua Beach. A mattress shaped inflatable rubber boat attached into a powerful and speed boat. Passengers are lying backwards and accompanied by instructor in the middle to control the Balance. The Speed boat then start going fast and faster until the rubber boat flying Up to 10 meters high.
This activities available for the youth, 13 Years old and above. The duration is 2 rounds (flight) up to 10 minutes in total from start to finish. This flying fish water sports at Nusa Dua is adrenaline rushing and make you screaming loud.
Doughnut Tube ride, Bali's most extreme Water sports
The challenging and fun and fast water slide powered by speedy boat. The activities for doughnut tube ride is ridding a round and doughnut shaped inflatable rubber boat with 2-4 people on it. The rubber boat attached to speed boat to give the power and manage the slide.
Best for Adrenaline junkies and thrill seeker. Not recommended for young kinds below 12 Years. The ride duration is 15 Minutes. Get fun and scream loudly
Fly Board in Bali, A brand new water sports activities
A brand new water sport activity at Nusa Dua Beach, Bali Fly board is like a skate board or wake board attached to the Jet ski with a special hose for the water force which allow the rider fly and accelerate above the sea.
This brand new Bali water sport activities is suitable for both youth and adult. Professional flyboard instructor will assist you to handle this device at the beginning. It will take a while to be able to ride the device. You may also chose to do tandem flyboarding if you having dificulties to handle the balance.
Good for kids (Tandem) and adult who looking for exciting water sport activities in Bali. The activities duration up to 20 Minutes.
Sea Walker, Water Sports at Nusa dua Bali for under water explorations
Sea Walker in Bali let you go down and explore the bottom sea living. Meet and feed the fishes while enjoying the colorful coral reef with an easy step. No specific requirement needed, Swimming skill is not necessary too.
It using a special waterproof equipment connected to Oxygen tank to enable you breathing under the water. This activities will start in the middle of the sea, Approximately 6-7 Meter under the water surface.
Being accompanied by Sea walker instructor to lead your under water walk experience for safety. This activities is good for youth and adult. The experience duration up to 30-40 minutes.
Bali introductory Scuba Diving
Scuba diving is another water sport activity you can do in Bali. Bali is known for best destination for Scuba Diving. What if you haven't got any experience before?. At Nusa dua Beach, you can do Introductory scuba diving experience even tough you never done it before.
It will takes place in the middle of the sea by boat, A professional dive master who will teach you the step by step of diving. It will be 5-6 meter dive experience. Recommended for youth and adult.
Snorkeling in Bali at Nusa Dua Beach
Beside of Sea walker or Scuba Diving, Snorkeling is another way to explore the bottom life of Nusa dua beach. This kind of water sport is let you swim in the middle of the sea while feeding the fishes.
A fisherman boat will escort you to the snorkeling point, All equipment is supplied. This activities available from kids to adult. No swimming skill required, Live vest is provided.
Turtle island tour by transparent Boat
Meet the turtle is the sanctuary, located in the hidden area in Northen nusa dua beach, Known as Tanjung Benoa Beach. Known as a place for turtle conservation. To get to this turtle farm, You will need a special boat called Glass Bottom Boat. A transparent deck boat where allow you to see the under water view directly from the boat.
Best Bali Water Sport Package in Bali to Book
Here below is the best Activities for water sport activities in Bali. All inclusive package with Hotel transfer and Meals.